Learn how a Home Care Package can keep you active and independent in your home. We'll help you understand where to go, what to do, and what's on offer. If anything gets too hard or confusing, just call us. We'll learn your personal story and how we can assist. You don't need to have a solution in mind—that's our job. Just tell us about your living situation and we can make suggestions to improve and enhance your independence.
What is a Home Care Package?
A Home Care Package is a subsidised program run by the Australian Government to provide older Australians with funding for access to in-home care services.
Think of a Home Care Package as a bundle of services you choose, grouped together to provide you with personally tailored support to keep you enjoying your independence at home.
With a Home Care Package, you can pick and choose the services most relevant to you.
What services can I choose with my Home Care Package?
You can select and combine multiple services to suit your lifestyle and support your independence. Your selection of services becomes your 'support plan'. Our services include, but are not limited to:
In your home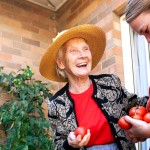 In your home
Get help with your daily routine around the house: cleaning, laundry, cooking, getting ready in the morning, preparing for bed, showering, and more.
Mercy Health is also an approved provider, which means we can help you receive equipment or services from other people, such as gardening or home maintenance, in addition to our own Mercy Health services.
In-home care doesn't even need to be a 'service' in the traditional sense. We can also coordinate your support plan, or engage with other people already providing your services—physiotherapists, for example—and handle the payment or planning, so you don't have to.
How many services can I choose with my Home Care Package?
You can choose as many services as you can fit within your Home Care Package funding level. We can work with you to match your budget with the services you need.
There are four levels of Home Care Packages, designed to meet different levels of independence and care requirements. The funding levels are determined by the Australian Government.
Your funding level will be determined through an Aged Care Assessment as part of the Home Care Package application process. Aged Care Assessments can be organised by My Aged Care, the Commonwealth Government body responsible for all aged care services.
Level 1 supports people with basic care needs. Think of it as the smallest bundle that provides a couple of hours of in-home care services each week.
Level 2 supports people with low-level care needs. It results in around four hours of in-home care services per week.
Level 3 supports people with intermediate level care needs. It equates to up to nine hours of in-home care services per week.
Level 4 supports people with high-level care needs. It translates to up to 14 hours of in-home care services per week.
While each level comes with a different amount of funding, all levels have access to the same types of services—the difference is the amount of services you can choose within your budget. We tailor your services to ensure you get the best value out of your budget.
How do I get a Home Care Package?
To access a Home Care Package, there are five key steps:
Visit the My Aged Care website, or call 1800 200 422. My Aged Care is your first contact for assistance to stay living independently at home. They can also assist if you're looking to access more help than you currently receive.
My Aged Care will organise a free Aged Care Assessment, to learn your preferences, goals and potential needs. They will assess what government funding you may be eligible for, and if it is a Home Care Package, the right level for you. The Aged Care Assessment is a face-to-face meeting with an assessor, usually a health professional such as a nurse, social worker, or doctor. The assessor will visit your home to understand what services you would like and how your life could be easier or more enjoyable.
You will be notified if you are eligible for a Home Care Package to fund your chosen services—whether you meet Level 1 or Level 2, or whether you need more comprehensive care (Level 3 or Level 4, or an alternative funding program).
Be allocated a Home Care Package and choose a Home Care Package provider. We are an approved provider, which means we can offer a wide variety of Mercy Health services as well as engage other people to provide you with extra services. For example, if you'd like help with gardening or mowing, we can provide one of our trusted local contacts to help you. We can also connect with anyone currently helping you with services, and arrange for payment of those services through your Home Care Package
As your chosen provider, we'll work with you to develop a services and support plan, and clearly explain the process and costs. There are no fees or commitments before this point. You decide whether you would like to accept the offer of a Home Care Package. You can manage your budget or we can coordinate the costs and payments for you if you prefer. It's completely up to you.
How much will my care cost?
A Home Care Package provides you with government-subsidised funding for access to many of your chosen care services. However, most people are expected to contribute a small amount towards the associated costs. This amount may vary depending on your personal circumstances; we'll negotiate a fee structure to suit your personal circumstances.
For immediate piece of mind or early clarity on what to expect, My Aged Care can provide an indicative estimate of your fees through the Home Care Fee Estimator.
A Guide to Mercy Health subsidies and charges
Mercy Health Home Care Package Model 
When does my care start and how long does it last?
Once you have a chosen provider, you'll receive a Home Care Agreement. Your Home Care Agreement is a legal document that lists the details of your support plan, including who will provide your services and any costs associated with your Home Care Package.
Your Home Care Package funding starts on the day you sign your Home Care Agreement, not from the day you receive care and services.
You can continue using your Home Care Package to access services for as long as you need. Your package cannot be allocated to another person unless you notify us in writing that you no longer wish to receive services in your Home Care Package.
Engaging Mercy Health as your provider
We're here to help you through every step of the process. If things get difficult or confusing at any point, give us a call. We provide one person as a dedicated contact to explain all your options.
We understand the system. We can help navigate it for you, and with you.
We can also help you identify and prioritise your needs at any point in the process, and listen to what services matter to you and what will make a difference. This can occur before your Aged Care Assessment, after you have received the offer for a Home Care Package, or when it's time to choose or change your service provider. We're always here—get in touch whenever you need us.
My Aged Care may offer a list of service providers during your Aged Care Assessment—you can still choose us as your provider, even if we are not included on the list.
If you'd like any more information or have specific questions, call us now on 1300 478 776 or make an enquiry
Last reviewed November 14, 2018.