If anyone can claim to have lived a full life, it is 79-year-old Robert Prudhoe. He is an engineer and inventor, a lecturer and poet, a mountain climber and yoga instructor. But he is best known as Boinga Bob, builder of extraordinary houses and a man of incredible wisdom.
Bob lives in a tree house in Warburton that he crafted himself. He loves showing his treasures, sharing stories and reading poetry to his Mercy Health Home Care Services workers, who help Bob around his house and gardens.
Bob has travelled far and wide, everywhere from Alaska to the Himalayas. And while people from around the world are vastly different, there is one thing he has noticed everywhere he has been. "We seem to have a whole planet of people who don't know what we are doing here on earth," he says. "People seem to be searching for the wrong thing, looking for the wrong treasure."
Bob believes in kindness, being grateful and developing connections with the earth and what comes afterwards. His heart is huge – almost as big as his ideas! "Mercy Health, and those who work for Mercy Health, have been very good to me," Bob says. "They help me to clean my house and garden and sometimes they take me to my hospital appointments. I've had double hip surgery, three prostate surgeries and had huge problems with my heart, but I'm very grateful for the life I have and for those in it."
Follow Boinga Bob on Facebook at Save Boinga Bob's house to help him restore his extraordinary home, which he hopes to leave as his legacy to the Warburton community. His tree house has featured on the World's Most Extreme Homes, on Better Homes and Gardens and Burke's Backyard.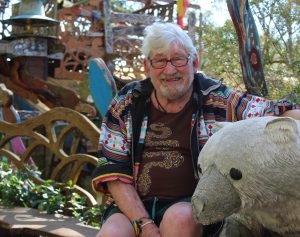 Last reviewed November 21, 2019.