We are excited to announce a promising partnership that will enable our community care workers and clients who speak different languages to communicate quickly and easily.
Mercy Health has joined the National Ageing Research Institute (NARI) and digital health and technology company Curve Tomorrow to develop Talk2Me, a portable voice-to-voice translation tool.
The technology, which instantly translates the words and needs of clients to their care workers is designed for people living with dementia and those from culturally and linguistically diverse (CALD) backgrounds. It builds on Mercy Health's commitment to innovation and our mission to improve the lives of your clients.
People from CALD backgrounds make up 20 per cent of the older Australian population and this is set to increase to more than 30 per cent by 2021.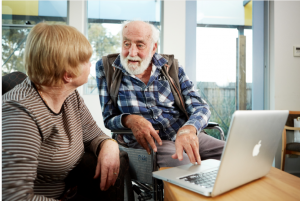 Talk2Me is a valuable tool that will improve communication with clients. It will enable people to remain at home longer, help address immediate care needs and alleviate feelings of frustration and isolation. It may also reduce the number of trips to hospital by ensuring changes in health status are recognised and managed quickly.
"We care for people from a variety of cultural backgrounds living with dementia," says Mercy Health Home Care Services National Director Amanda Bowe. "Talk2Me will be a fantastic resource for our community care team and will no doubt help strengthen the close bonds they already share with our clients."
The project was funded by an Australian Department of Health dementia and aged care services research and innovation grant.
Last reviewed March 4, 2019.