Through the fog of dementia, Stan's recollection isn't what it used to be. But one powerful memory — starring on the trapeze in the circus — came flooding back the day Stan tried our new virtual reality glasses.
In his youth, Stan was a catcher on the trapeze with the Flying Ashtons. At 74, his days of flying trapeze are well and truly over, but he was thrilled to discover he could fly again by simply putting on a set of virtual reality glasses and selecting Cirque du Soleil. Through the new virtual reality program, Stan also visited Korumburra where he first lived after migrating from England in 1950.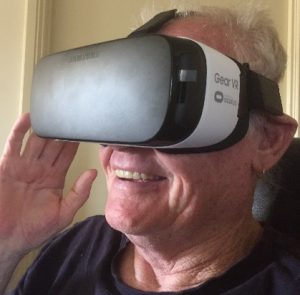 "It really took me back," Stan says. "I was telling [my care worker] Andrew the name of the butcher, what the town used to look like and who lived on which street. I'm so happy he showed me."
Stan says the virtual reality program is a great initiative that could be used more widely, particularly for people with dementia or difficulty with memory recall. "It reminds you of things and keeps your mind occupied," he notes.
Stan's wife Robyn says it's a welcome addition to his Home Care Package, which already covers cleaning, gardening and respite.
Mercy Health Home Care Services worker Andrew Smith says the virtual reality glasses were a great fit for Stan, who is quite adventurous and loves a challenge.
"After getting to know more about him and his comfort levels, I thought that Stan may enjoy a bit of a thrill," Andrew says. "It's a real joy to see the satisfaction and thrill that he receives from the virtual reality experiences."
Read more about Stan's story in the winter edition of Our Voice.
Last reviewed March 4, 2019.