On 14 March, Umps Health was officially launched and the Experience Centre in Melbourne's CBD was opened to the general public. Several Mercy Health staff attended the launch and were very impressed by the innovation behind this technology that supports safety and independence at home for older Australians, and provides families with extra peace of mind.
Mercy Health is delighted to be affiliated with Umps Health and will be offering to install these devices into the homes of our clients, through their Home Care Packages.
The Umps Health Smart Home uses a small device to measure when everyday home appliances are used. They register when activities like boiling the kettle, using the microwave or turning the TV on or off are undertaken. The system learns the resident's unique daily routine, and if something goes wrong, Umps Health raises an alert to a nominated contact so they can check in on their loved one.
The system works entirely in the background, doesn't require a pendant to be carried or the pressing of any buttons. It is easy to use and operates 24 hours a day.
What sort of things will Umps Health smart home devices detect?
Umps Health learns the resident's unique daily routine, so it only raises an alert when things occur that are unusual. For example, an alert will be raised if:
the TV is usually turned off around 10pm, but the TV has been left on late into the night
the kettle is usually boiled before 10am, but no activity is detected
a bedside lamp comes on during the night, but then isn't switched off, which may mean something has happened to a person after they have gotten up in the night.
How to purchase Umps Health smart home devices
Umps Health can be purchased on a monthly subscription for $40 a month with no lock-in contract, including free delivery. Clients with an existing Government-funded Home Care Package can purchase Umps Health smart home devices through their package. The monthly cost includes everything you need for Umps Health smart home devices to work:
one Umps Health Smart Hub
five Umps Health Smart Plugs
user accounts and alerts for up to five nominated contacts.
To find out more about Umps Health smart home devices, visit umpshealth.com. If this service is of interest to any of your clients who receive services from Mercy Health, we would be happy to assist. Please contact your local Mercy Health Home Care Services office, or call 1300 478 776.  For any other clients who may be interested, Umps Health can be contacted directly on 1300 907 272.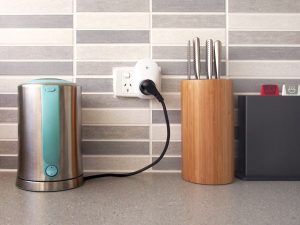 Last reviewed May 9, 2019.